Use your phone for a £10 deposit, instantly get a 50 Free Spins on Book of Dead that you can use for all Pay via Phone Bill Slots we're offering. To start, just click the link or image below!
[slider post_category="content" post_count="2″]
Welcome to Dream Palace Casino Online Casino! One of the best mobile experiences pay via phone bill slots casino out there! Our mobile games are guaranteed to offer you countless hours of fun, using nothing more than your mobile phone.
---
Pay by Phone bill Slots
No credit cards, no transfers, no long sign up process. More time to play, more time to enjoy the games you choose; made easy by paying via phone bill slots. Want to read more about our policy? You can find anything you need to know on our FAQ or by registering online.
---
Your adventure starts here!
How does pay via phone bill slots work? Easy:
1. Pick your favourite game
2. When ready, click the play button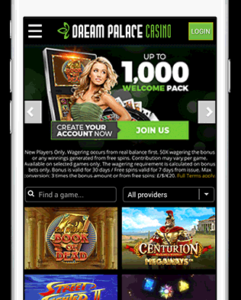 3. Register by signing up with your credentials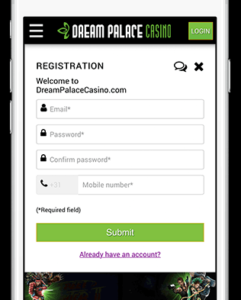 4. Charge your account with your mobile phone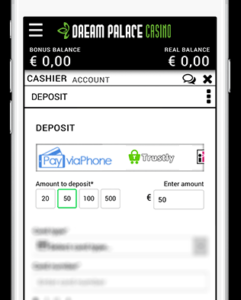 5. Fill in the code sent to your phone by message
6. Enjoy playing your favourite game or choose between 850+ games you haven't experienced yet!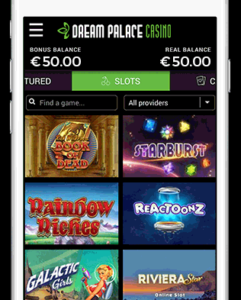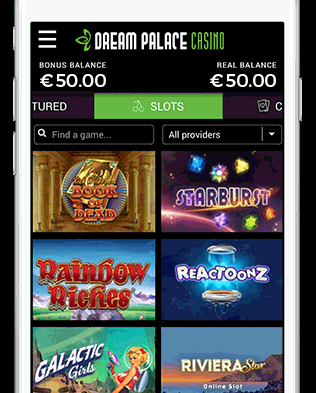 ---
Why choose paying via mobile phone?
One important reason to choose for pay via phone bill slots is that you can actively keep track of your spendings by looking at your phone bill. Make sure to do this online, so you can keep a real time record!
Next to that, by listing your phone number you can easily log in on any device without having to give up any more credentials than needed. If you feel like pay via phone bill slots isn't the way to go for you, we offer alternative payment methods. Though we are convinced that you will like the convenience of the popular pay via phone!
How does Pay via Phone Bill work?
Your phone bill can serve as a credit system when making purchases online. Because the phone bill wasn't initially created for such service, there are some things you need to know before using your phone bill in such a manner. There is usually a deposit fee, where most other payment methods are free. The limit on this particular method is generally lower compared to other methods as well.
Can I connect my phone bill with other payment methods?
There is no one on one link between for instance PayPal, Mastercard or iDeal and someones phone provider. Although these services usually do have an app or an online webbased application that you can use. In other words: you can use your phone in relation to these services, just not your bill.
Can I withdraw funds using my phone bill?
No. Though you can make a deposit, it is not able to withdraw your winnings using nothing more than your phone. Therefore you will need to have access to another solution. A bank transfer seems the most obvious one, though people usually prefer an online service like PayPal as these are transmitting amounts instantly.
Do all casinos have the same terms and conditions?
No. There is a variation in the agreements casino have with payment companies, although these variations are usually the result of geographic location. The differences however are small, there is more to win in the difference in welcome bonuses.