Pay via phone bill casino by depositing £10 to get 50 Free Spins on Book of Dead instantly to play your favorite game!
[slider post_category="content" post_count="2″]
Simply play pay via phone bill at Dream Palace Casino Casino, nothing else needed!
Scroll to Find Out How!
---
We are one of the TOP Phone Bill Casinos in the UK! Play our games and deposit using your Phone Bill. Follow our "Phone Bill Casino" deposit tutorial. Phone Bill Casino can also be called:
DreamPalace Casino is one of the most well known online casino's in the UK. You will find us on Google or Yahoo by simply looking for:
# Pay via Phone Bill Casino
# Mobile Pay Casino
# Pay via Phone Bill Slots
# Online Casino for Mobile Deposit
---
Pay via Phone Bill Casino mobile deposit bonus
Start winning by depositing £10 with your mobile phone. Receiving a 50 Free Spins on Book of Dead
and start playing with immediately! You can simply use your mobile phone to pay via phone bill casino!
---
Learn about our mobile slots
Compete on our wide selection of Mobile Slots. All available slots can be accessed by mobile. Jackpots included!
Mobile slots Deposit
We could not have made it easier for you to play. Just Follow these steps below:
Getting started: Sign up
Navigate to dreampalacecasino.co.uk home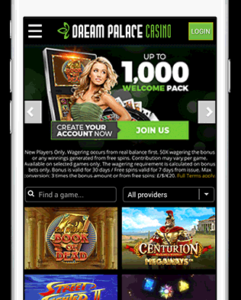 Press the "Join Now" button and open the registration form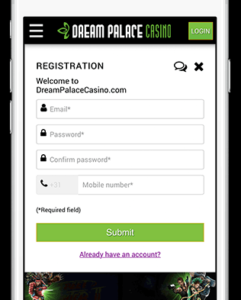 Make sure to fill in the correct phone number for future payments! You will receive a confirmation code on the number you entered on your registration
---
Pay via phone bill: Deposit made easy
Press "Deposit Now"
Almost ready to play: Activate Account
Press OK to activate your account
Look in your mailbox for a confirmation mail with all user details. Keep it safe in forget you forget your login information!
---
Take your game everywhere: Mobile Billing
Pick "Pay via Phone" as your primary payment option
Pay and play!
Almost there! Now we just have to make sure that:
1) Press £10
2) Enter the 4 Digit Code we sent to your mobile phone by text message when your registered
3) Type "I acknowledge the above information"
4) Click the big "Deposit" button
---
Have Fun!
CONGRATS! You added £10 to your account using pay via phone bill casino and we gave you a 50 Free Spins on Book of Dead!
Get out your mobile phone start playing. Good luck and have fun!
Start playing by using your Phone Bill and Claim Your Bonus!