Deposit €10 and get a 100% match up bonus to play at our Dream Palace Ideal Casino.
At Dream Palace Casino you are able to make payments and play with the easy to use Ideal! It's as easy as choosing your bank, choose an amount and submit.
Need some help to start? We help out!
---
Dream Palace is a renowned Ideal Casino worldwide! Good chance you have found us by looking for:
# Casino Pay by Ideal
# Ideal Casino Deposit
# Play Casino Games with Ideal
# Bank Ideal Casino
---
The Ideal Casino Tutorial
At the end of this tutorial, you will have an account verified with your mobile phone. Your first payment done with Ideal and gotten a 100% match up bonus up to £/€/$200 on your first deposit.
---
Ideal Casino Online
We offer a collection of over 400 games for you to play with. All accessible with the ease of Ideal. Learn more about the possibilities on our payments page.
---
Alright, let's start on getting you that 100% welcome bonus!
It couldn't be easier to deposit, just follow these couple of steps:
First step: Join the Dream Palace Club
Visit our Lobby and Register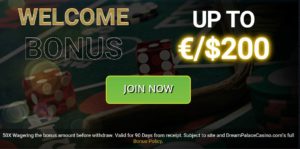 You now get to fill in a register form. Make sure you fill in your phone number correctly, we send you an authentication message to you mobile after this step is completed.
---
Second step: Choosing your Payment Method
Press "Deposit Now"
---
Third step: Time to Activate your Account!
Press OK so your account will be activated.
Now check your mailbox for a confirmation mail with your username and details. Keep this mail archived!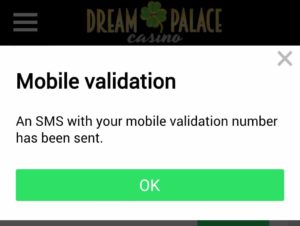 ---
Fourth step: Ideal Deposit
Almost there! With your account active, you can choose Ideal as your deposit option. It doesn't matter what device you use, you can just follow the steps below:
---
Congratulations!
When your deposit is successful, you will immediately receive your 100% match up bonus up to £/€/$200! Now you are ready and set to play on over 400 games!
Have fun and the best of luck!